Details
Where:
Black Box Theater
Edmonds Community College
Lynnwood, Washington
(Easy directions & details will be sent after Ticket Purchase)
When:
Saturday February 25TH, 2017
Time:
Doors Open 1:00pm
Show Time:   1:30pm
Event Information
In 1961, Walt Disney moved his popular TV hour from ABC to NBC, specifically to revel in the creative and promotional possibilities in that network's Living Color broadcasting.  In what has been called the single most important programming event in the establishment of color television, Walt premiered Walt Disney's Wonderful World of Color, the first weekly television show designed to showcase color, and featuring the only animated character Walt ever created for television, Ludwig Von Drake. This "colorful" presentation, including seldom-seen clips, rare photos, stills, advertising material and other collectibles, will explore the creation, marketing and behind the scenes details of Disney's Emmy- and Peabody-winning series, and its enormous impact on the public and industry acceptance of color television.​​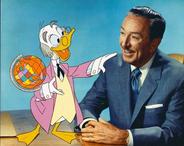 This exciting PNW Mouse Meet™ Event will take place in the charming and intimate Black Box Theater at Edmonds Community College where the theater style seating provides excellent views for every Guest. The wonderful stage and enormous screen mean a fantastic show for the audience and the presenters.
We can't wait to share this amazing opportunity to learn more about Walt Disney, The Wonderful World of Color (celebrating its 55th anniversary) and Disney History…
PNWMM's Don Morin will also host a Q&A session during the event and Jim Fanning will be available after the show for Meet & Greet and Book Signings.
Event Venue
Multi-use, 200-seat venue for community events & live performances including theater, dance & music.
More Information
Directions
Immerse yourself in the magical world of Disney and explore stunning animations, incredible live-action movies, and the magical parks and attractions of Disney with this fully-illustrated guide.