Introduction
Creative Director: Theme Parks, Pixar Animation Studios
Creative Legacy, Walt Disney Animation Studios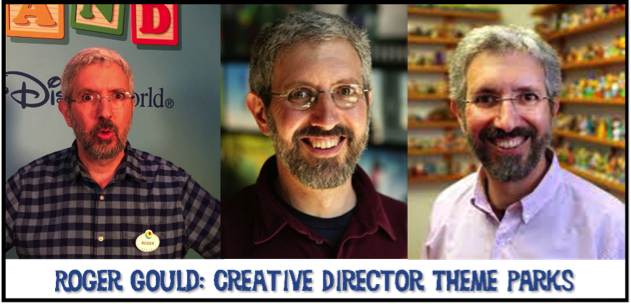 Roger Gould is Creative Director of Theme Parks at Pixar Animation Studios and Creative Legacy at Walt Disney Animation Studios. Since 2005, he has worked in deep collaboration with Walt Disney Imagineering to bring the wonderfully imaginative Pixar and Disney Animation characters and worlds to three-dimensional life at Disney theme parks, resorts and cruise ships around the globe.
With his focus on storytelling, Roger works to expand the animated films beyond the boundaries of the movies, inviting guests to connect with beloved characters and allowing them to enter these imaginary worlds. His projects range from attractions to parades to entire immersive lands such as Cars Land at Disney California Adventure, Remy's Ratatouille Paris at Walt Disney Studios Paris and EPCOT, Belle's Village at Tokyo Disneyland as well as Toy Story Land in Paris, Hong Kong, Shanghai and Orlando. Among the many award-winning attractions he's helped create are Radiator Springs Racers, Finding Nemo Submarine Voyage, Remy's Ratatouille Adventure, Incredicoaster, Toy Story Mania!, Turtle Talk with Crush, Frozen Ever After and The Enchanted Tale of Beauty & the Beast.
Roger has worked in computer animation since its early days in the 1980's, as an animator and director. He joined Walt Disney Animation Studios in 1994 to work on Hercules, leading the team that created the computer animated 30-headed Hydra. In 2001, he joined Pixar Animation Studios as Creative Director of the Shorts group, directing and co-directing a wide variety of projects including the Academy Award®-nominated Monsters Inc. short film Mike's New Car and the Academy Award-nominated Boundin'. In 2005, he founded Pixar's Theme Parks group to focus full time on Imagineering projects and in 2015, he launched Disney Animation's Creative Legacy team to collaborate with Walt Disney Imagineering.
Roger was born and raised in NYC, falling in love with animation when he saw "Pinocchio" at the age of 4.